Drum roll please!
May I welcome you to my first ever book review.
You may know the lovely
Peggy Frezon
from her blog
Peggy's Pet Place
. But she's also an author, columnist and freelance writer.
Well, she's written a book that's just been published in the UK called Dieting With My Dog and I was very honoured to be among those offered the chance to review it. (If you are in America I think you have to wait a TINY bit longer before it's available to buy).
The Lady Of the House and I read it together this weekend.
I think a quote on the back page sums it up quite nicely: "This book is for anyone who has ever loved an animal – through thick and thin".
But, the idea is that I'm supposed to say what I think about the book, isn't it?
Well, I'd say, "It's a book about love".
Love leaps off every page at you: Peggy's love for her husband Mike and their children Kate and Andy; the family's love for each other and their adorable spaniel Kelly – and, yes, Peggy and Kelly's love of food.
Being a freelance writer working from home, Peggy admits she's always just a tempting few steps away from the fridge. But that wasn't the only reason that her diet (and Kelly's) wasn't always as healthy as it could have been.
In this warm, and frequently funny book Peggy charts her journey of discovery. We learn how she came to realise why she was over eating – and what she did to bring about a drastic change. She lost a staggering three stones. Kelly also lost 15% of her bodyweight too as she took up the vital role of Peggy's furry fitness coach.
Peggy tells us some lovely anecdotes along the way. Many folks will identify with the fears she had to overcome of loose dogs and unfriendly dog owners as she tried to step up her exercise levels too.
Peggy's book is inspirational as well as being an enjoyable and entertaining read.
There's some lovely pictures of Peggy and her family – including Kelly, of course. And I think it's a book that my fellow bloggers and their people would enjoy.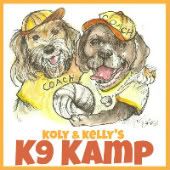 Not to be outdone by her mum, Kelly has also teamed up with Kol to run a
K9 camp
from September 8 until October 13. Together Kol's Notes and Peggy's Pet Place will be sharing diet and exercise tips and setting a weekly challenge….to prove that getting fitter and eating more healthily CAN be fun and is definitely worthwhile.
Dieting with my Dog, by Peggy Frezon, is published by Hubble & Hattie and costs £9.99 in the UK. You can order it in bookshops or buy it on Amazon.
Dieting With My Dog - one busy life, two full figures and unconditional love